July 27 - 29, 2022
CLICK TO DOWNLOAD THE REGISTRATION FORM
The 19th annual Arkansas Labor Management Conference is a three-day event designed to bring together top leaders of labor, management, education, and government in a relaxed atmosphere to discuss important topics of concern. In addition to the seminars, there will be several activities to network with other union workers as well as other fun activities such as bingo, karaoke, golf, and more!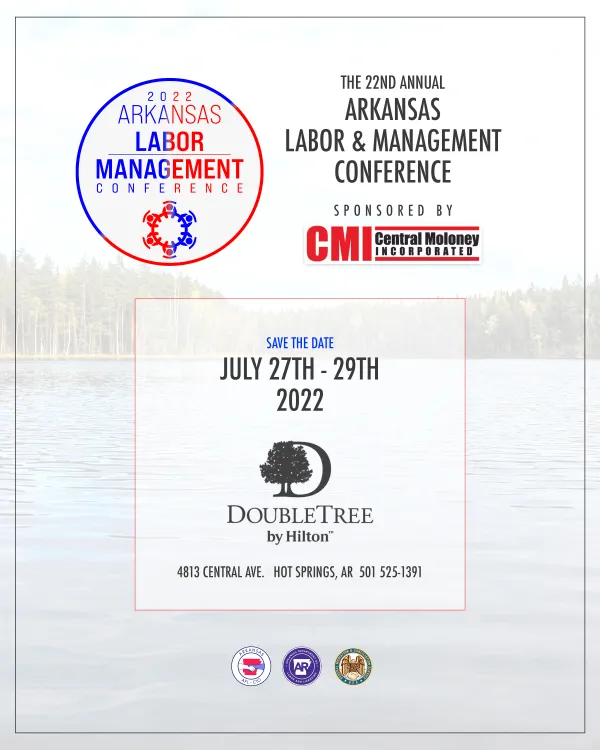 Event Description
Date: July 27 - 29, 2022
Location: Doubletree by Hilton in Hot Springs, Arkansas
The Federal Mediation and Conciliation Service will again be jointly hosting this three-day conference with the leadership of the Arkansas labor-management community. The success of this conference depends upon your participation and enthusiasm.
General Event Information
Who Should Attend?
Employers, union officers, representatives, and members, educators, and attorneys interested in the field of labor/management relations. This conference provides educational programming and networking opportunities invaluable to your organization.
What Fun Activities Will There Be At The Conference?
Wednesday evening Bingo with lots of fun and prizes, and karaoke after! There will also be a golf tournament (details to come).
Registration Information
Registration $150
Guest: $50
Mailing Address: 1115 Bishop St. LR. AR 72202
Hotel Reservations:
Please make your hotel reservations directly with the Doubletree by Hilton, 4813 Central Avenue, Hot Springs, Arkansas, (501) 525-1391 by June 30, 2022.
Seminars:
A tentative agenda will be available at the conference.